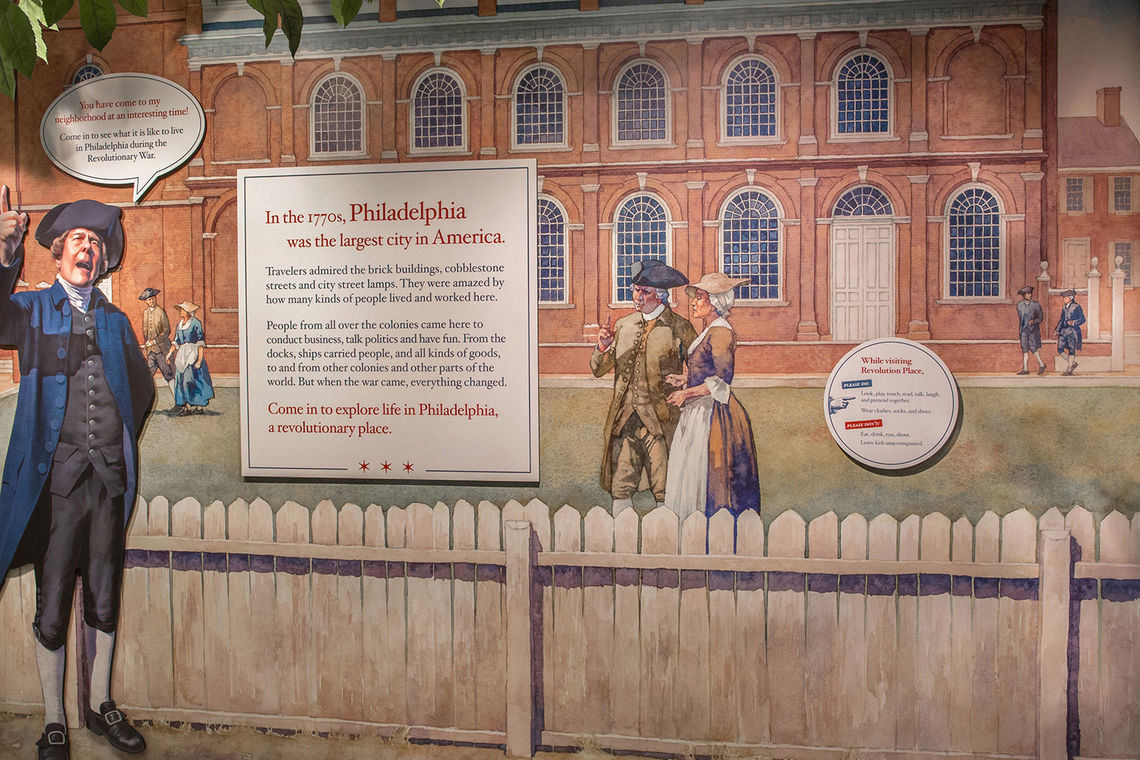 Museum of the American Revolution • Revolution Place
This exhibit provides an immersive experience that places children and families in Colonial America/Philadelphia in the 1770s. Historic landmarks in Philadelphia's "Old City" served as inspiration for the exhibit's look/feel, exhibit components, and story line. 
Four distinct scenarios—a military encampment, a tavern, a home, and a meeting house—are sequenced together to recreate the core of 18th-century Philadelphia, where visitors can experience and relive the conditions and issues that led to the American Revolution. 
A full-size encampment tent, brick building facades with architectural details, fireplaces, church pews, a churchyard complete with reproductions of actual 1770s gravestones, and a reproduction privy provide touchstones of authenticity while leaving ample room for engaging visitors' imaginations.
Life-size cutouts of illustrated figures interspersed with large-scale murals evoking scenes from 18th-century Philadelphia,including a marketplace in Headhouse Square and a church interior that references Christ Church and St. Peter's, give dimension to the installation. Distinctive flooring treatments—cobblestones, wood-plank floors, grassy fields—were created to further delineate the locations. 
The exhibit architecture delineates each exhibit scenario while also creating viewsheds between them, encouragingvisitors to move through the individual spaces at their own pace and in their own sequence, building an understanding of time and place. Hands-on interactives allow visitors to fully engage with the exhibit and immerse themselves in the story line, and also encourage interaction with other visitors. Audio/visual elements are skillfully integrated into displays in ways that minimally disrupt the period atmosphere while supplementing the educational aspect of the exhibit. For example, informational touchscreens are embedded in a taverntabletop, set into church windows, or in a picture frame on the wall in the parlor. The exhibit lighting – dimmed in the "interior" spaces to reflect the lighting of the time period, and dappled in the "outdoor" areas to conjure tree canopy – adds to the feeling of stepping back in time.