The designers and architects at Metcalfe partner with incredible clients who want to offer extraordinary experiences to those who visit and use their spaces both inside and outside. 
Resultingly, we've designed a lot of really cool projects! Have you seen the Morris Arboretum Canopy Walk? Or our WIFFLE ball field at the Phillies Stadium? How about our "Wait, Play, Learn" pods at CHOP? And there's still many more projects to be completed in the near future! (Ahem, Dow Gardens Canopy Walk!)
As discussed in previous blogs, the design of these projects usually starts with a sketch- but even before that, we assemble a kit of inspiration. How? Our team members are avid readers, researchers, and world travelers, so we often pull ideas from the buildings and spaces that we have learned about or experienced. But telling of our experiences is not always a sufficient way to communicate ideas to our clients. We need to get the ideas from our heads onto an inspiration board for the client comprised of relatable images, concepts, and materials. 
We don't always have photos of the projects we are inspired by. The internet has made the gathering of these photos so much easier than it once was. See below for our favorite websites to draw inspiration. With just a few keystrokes, thousands of images are at your fingertips.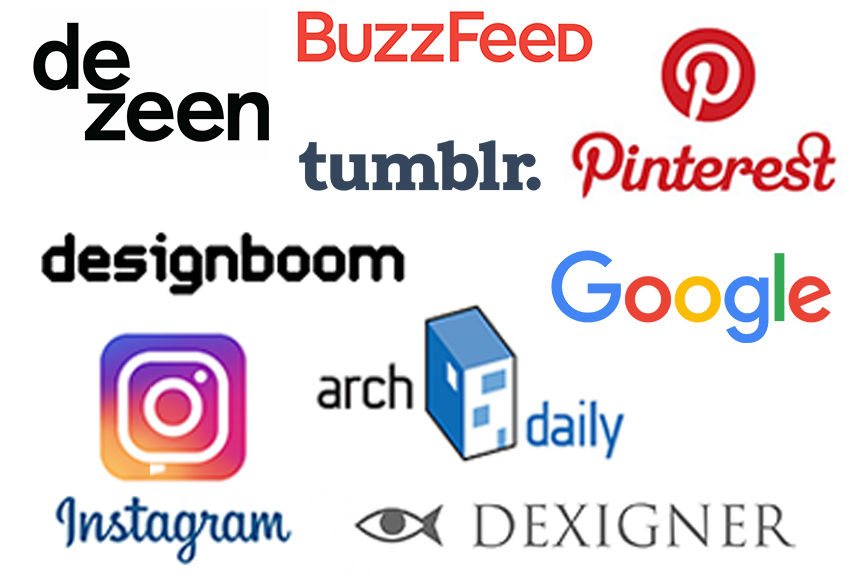 The internet is great to discover new and exciting projects, but we also look to our favorite designers and architects for design inspiration.
Alan loves the work of Dutch firm, Mecanoo. Rich prefers the styles of local star, Louis Kahn. Dave's favorite buildings were designed by Richard Rogers. Sohan loves the work of Paul Rand- not Rand Paul- he clarifies. Jason has been "keeping an eye on Form Us with Love, from Stockholm." And finally, Andrei's go-to is Alvar Aalto while Bradley enjoys the work of Adolf Loos.
Do you see how these inspiring designers have impacted our work? Check out some of our projects linked above or see our project directory at the top of the page.