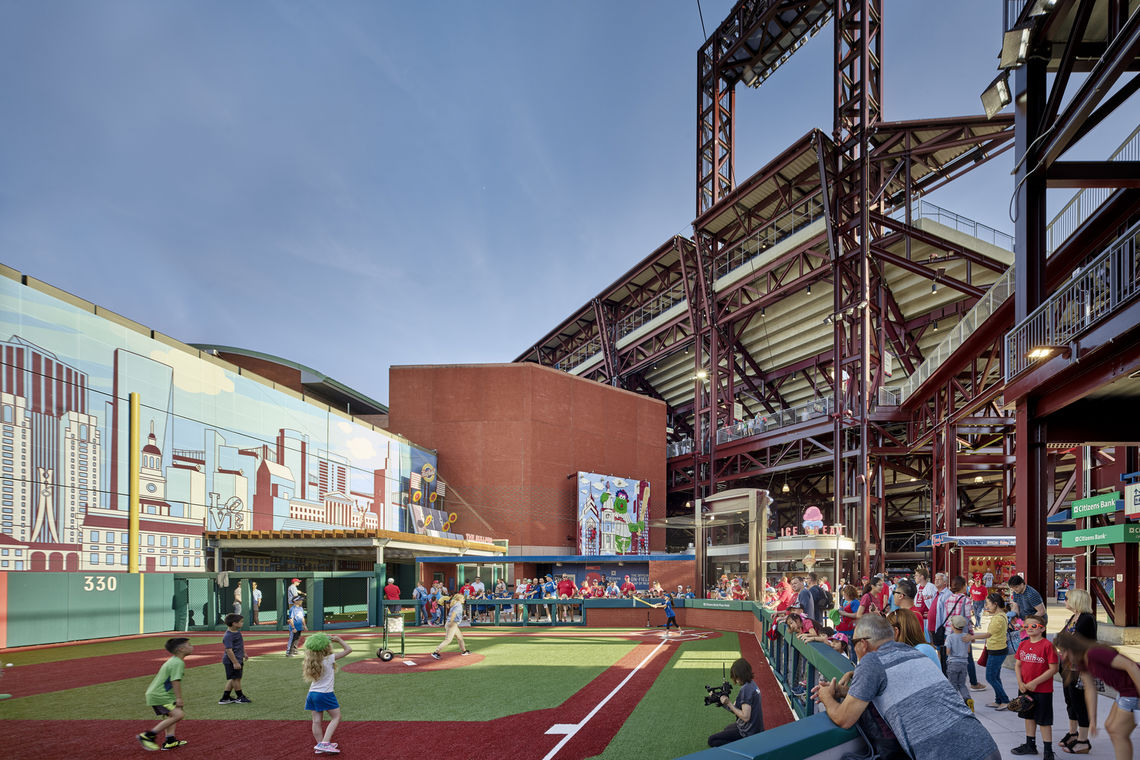 We are proud to be part of the team recognized by the General Building Contractors Association Best Cultural Institution Project for 2018 — for The Yard at Citizens Bank Park. GBCA's Construction Excellence Awards Program is the premier construction awards program recognizing excellence in construction and safety. Now in its 21st year, the program is dedicated to creating an awareness of the quality workmanship produced by GBCA member companies.
Promising to turn spectators into participants, The Yard, an immersive baseball experience designed by Metcalfe, debuted last season at Citizens Bank Park (CBP). The 13,000-square-foot concourse installation offers fans a chance to literally get into the game.
The Metcalfe team took a deep dive into all the details of the project, from prototyping the hot dog launcher to specifying the pitch-speed radar gun to fitting the outfield wall with MLB-quality protective pads, delivering a project that is an informed combination of architecture and exhibit design.
To provide fans with the most genuine ballpark experience possible, The Yard was carefully planned to be a seamless extension of the main venue, avoiding the feeling of an add-on entertainment element through several design strategies. It uses the same building materials, finishes, and architectural features as CPB. Metcalfe oriented the diamond to share the same skyline vista of the city as the big-league field. Framing that view are a pair of slightly scaled-down icons of CBP, a 20-foot by 14-foot Phanavision electronic scoreboard/screen and a nine-foot-tall Liberty Bell. Both are clearly visible from the centrally located dugout, which informally separates the Astro Turf playing field from other activities, such as the climbing wall and hot dog launcher. Thank you, General Building Contractors Association!