Welcome to How We Think, our new series designed to give you a look at the people, culture, knowledge, experience, and interests that drive our office. 

We kick things off with our founder, Alan Metcalfe, who – in one quick bite – will explain what inspires his designs.
Alan: In two words: 'informal learning.' I have always been amazed by how much people learn through activity and engaging with each other. We live in a tech-focused world today, which can feel isolating at times. With each project, whether it's a school, hospital, nature play destination, or even corporate office, I always look for opportunities for people to put down their phones and gather, talk, explore, and reflect. Our projects at Morris Arboretum and Whiting Forest of Dow Gardens are perhaps the boldest examples of this idea.
Each distinctive environment invites visitors to re-engage with nature; both projects encourage exploration and create a sense of perceived risk by elevating visitors off the ground and into the trees. When I visit the sites, it's always remarkable to see people engage with these platforms and the trees. At first, they are afraid to go out on the nets, but within minutes they're laughing and talking to one another. It's a small but powerful thing to experience.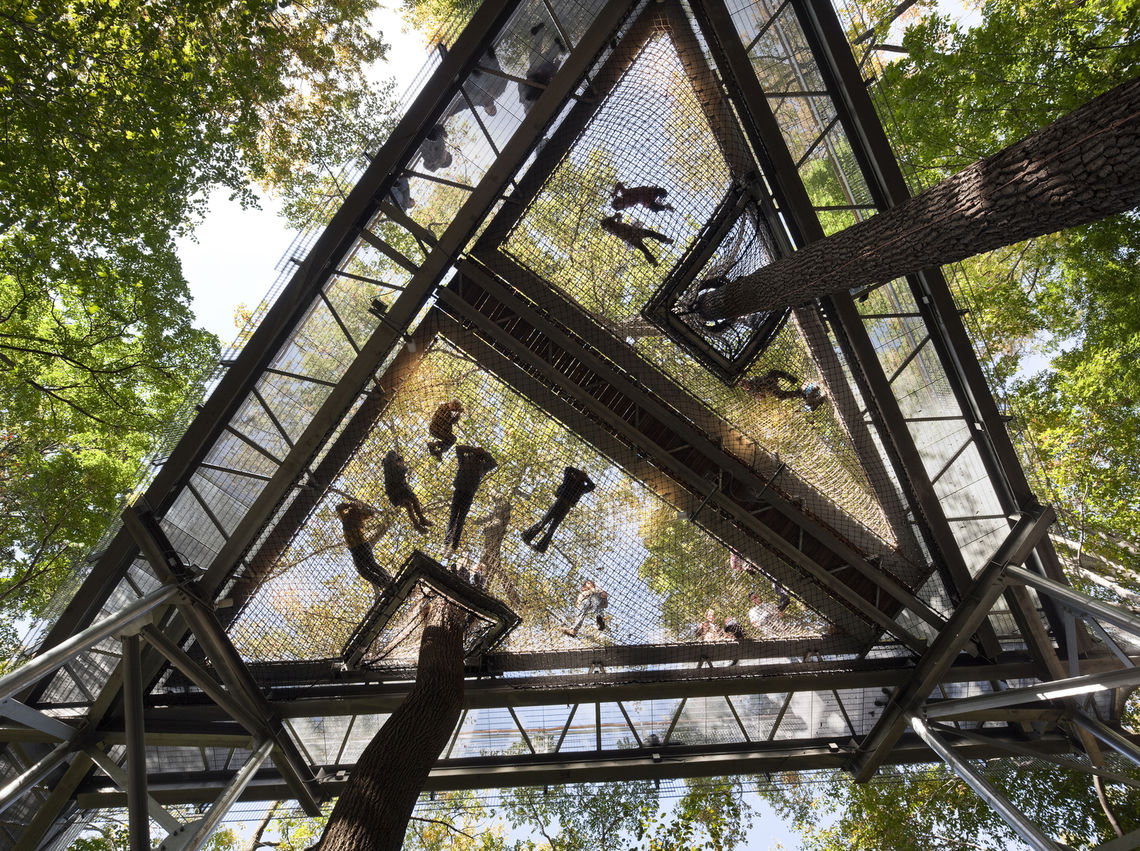 At the Morris Arboretum of the University of Pennsylvania, visitors are suspended 50 feet in the air, creating a sense of excitement and perceived risk; this drives visitors' curiosity and exploration.
But projects don't have to be elaborate to reinforce the idea of informal learning. With a little design foresight, a relatively simple stair can serve as an impromptu classroom, or an underutilized connection between buildings can be transformed through landscape elements that not only guide visitors to their destination, but also get them to pause and engage with the environment. In short, my work is driven by the idea that opportunities for learning live in both the big concepts we dream and the details we execute.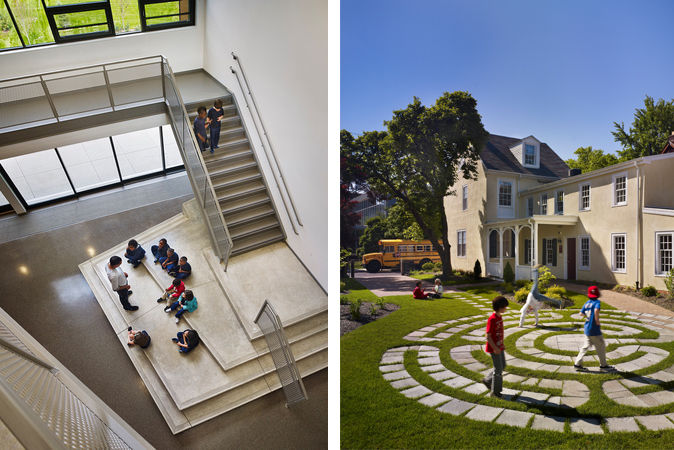 Left: Informal gatherings in the lobby of Wissahickon Charter School Philadelphia.

Right: A driveway becomes a grassy labyrinth and connector to the rest of the campus at Greene Street Friends School's Hargroves House.