Sitting remotely in our homes while connected virtually by phone, email, and Zoom, our thoughts at Metcalfe are turning to how we'll be designing indoor and outdoor spaces in the new era of social distancing.
Outdoors
We already knew about the powerful connection between greenspace and well-being.
What we have become acutely aware of all too quickly during this period of self-isolation is that time outside is precious. With ample outdoor space, social distancing suddenly becomes easy to create. Somehow, being six or more feet removed from friends while outdoors seems emotionally OK, and even feels familiar. Smiles on faces (without masks) create a sense of connection, even across a park.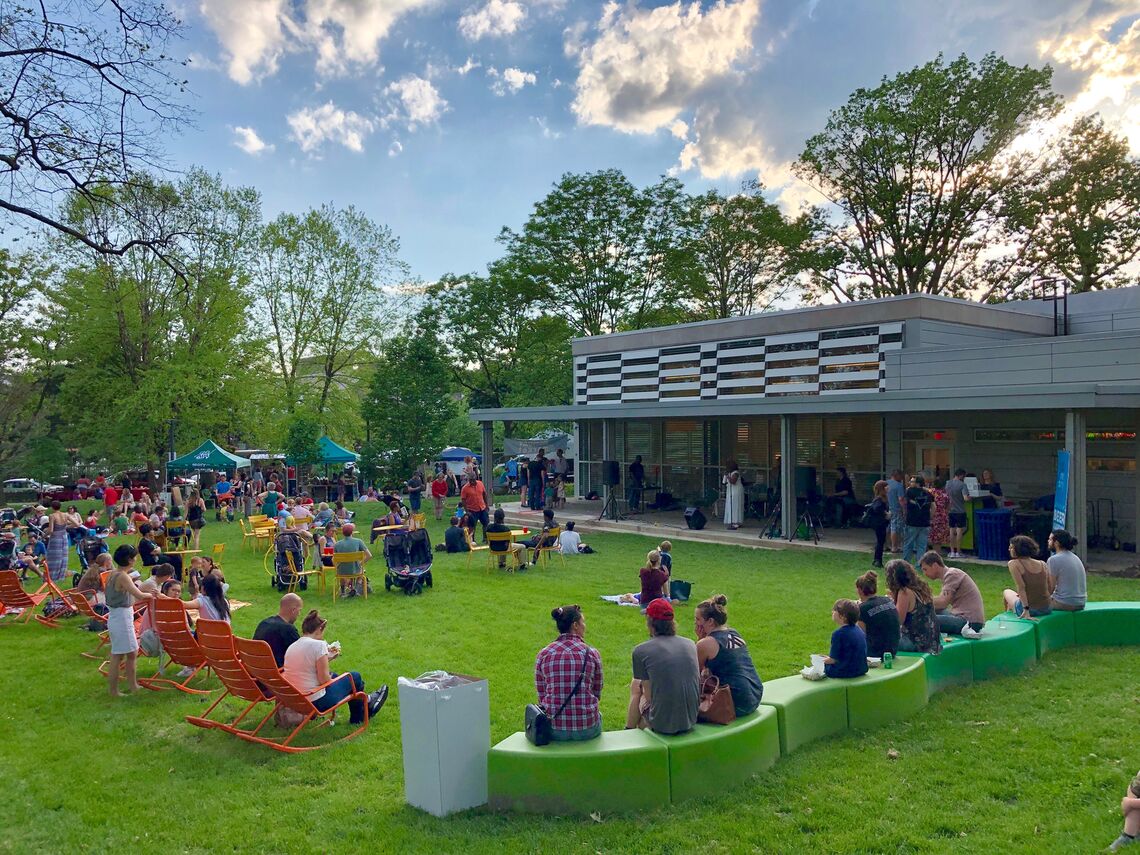 Lovett Memorial Library | Philadephia, PA
At Metcalfe, we understand these principles of human interaction from our work at schools, gardens, and arboreta. Open-ended, unprogrammed outdoor experience engages our minds and bodies whether we are aware of it or not. It helps us to be creative and try something new, it coaxes us to explore, or simply gives us a moment to slow down and relax. Just seeing activity and play from afar makes us feel connected. Sitting in my home office right now looking at the neighborhood children across the street joyfully jumping on their trampoline emotionally engages me with their experience. 
Open-ended outdoor spaces possess the capacity to help us weather our current, contactless environments. Loose seating that allows a visitor to adjust the spacing in our parks is a concept we explored at the Lovett Library. The stepped gathering spaces we created at Camp Havaya are large enough to meet today's distancing requirements for campers, and yet still feel like a genuine gathering space.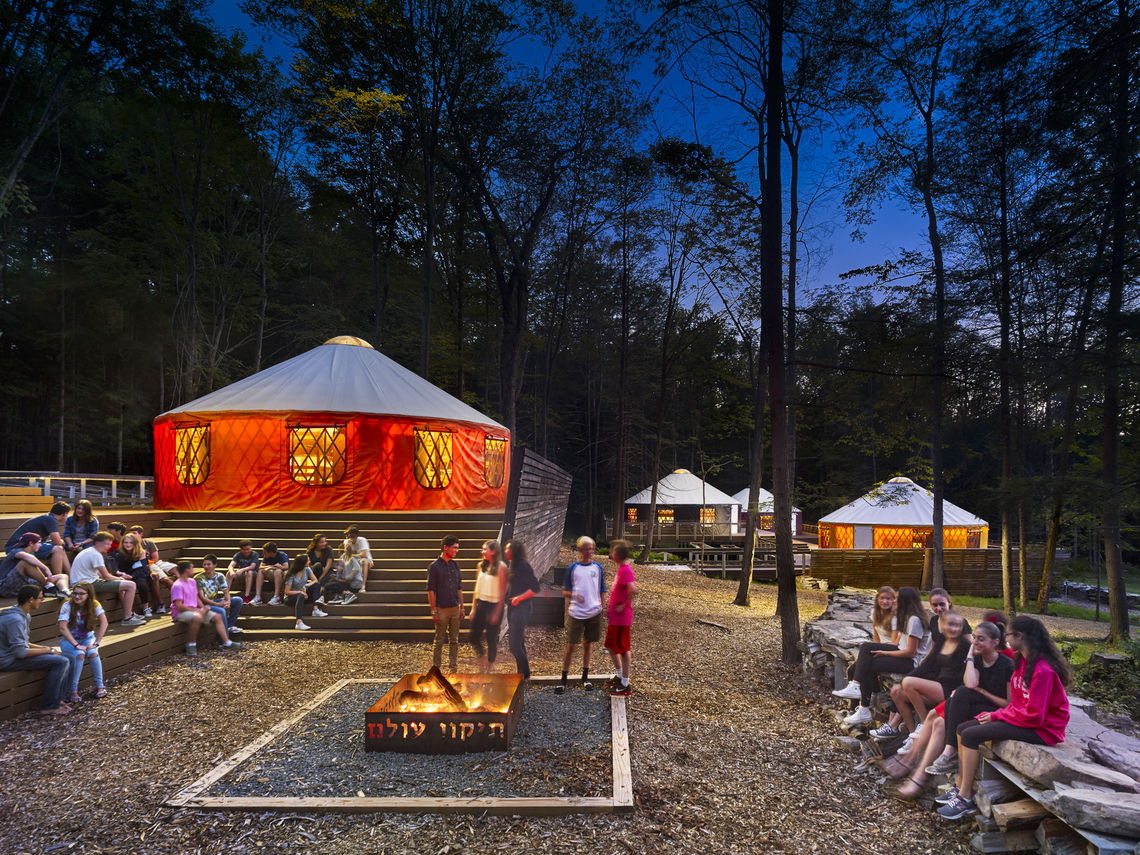 Camp Havaya | South Sterling, PA
Accounting for large quantities of people in schools, museums, or stadiums means we look at how they move through a space. Wide pathways not only provide a sense of graciousness but today they will also allow us to pass at a comfortable distance.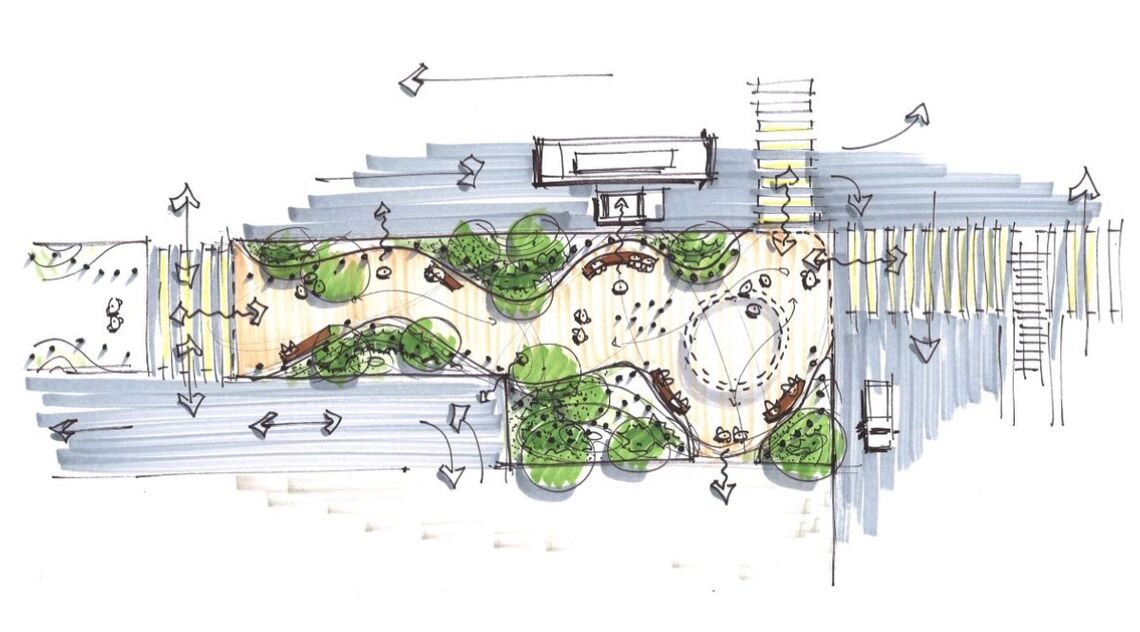 "Some people enjoy being by themselves outside and being reflective. Others want to hang upside down and watch leaves fall up." - Jason Manning, Design Director at Metcalfe
Indoors
The indoors is more challenging. Our clients have started asking us for help.  

Of course, as designers, we need to start with the obvious mechanics of coping with COVID – one way entry and exit paths, handwashing stations, active HVAC filters, aerosol shields in areas of close contact, cleanable surfaces, touchless switches…all of this is necessary and soul-draining.
 
But after considering life safety issues, we need to design so as to nudge human behavior, create spaces that are safe AND draw people to congregate safely.  The design culture must learn to deal with this disease, and it will, just as Hausmann's beloved wide and airy Parisian boulevards were a response to tuberculosis in the perceived dirt and filth of mid 19c. France.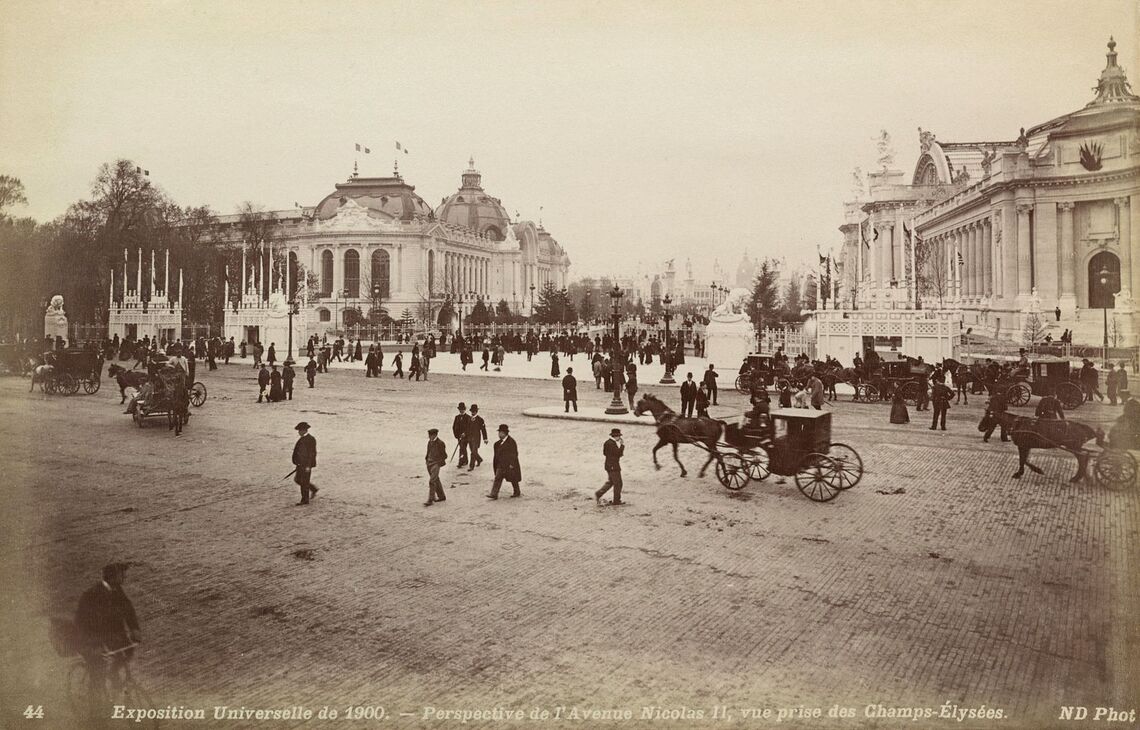 Champs-Élysées  |  Paris, France
Metcalfe's understanding of human behavior and social spaces is now transforming to meet the new normal, helping our clients feel comfortable when they gather in easy to clean and open feeling lobbies, classrooms, and waiting areas. When they enter their school or hospital, they need to easily understand the new hygienic route that takes them into the building, find a friendly face that can direct them to an open, sun and fresh air filled lobby with views of plants, and gather in open spaces where visitors feel part of a community before they proceed to their classroom or doctor's visit.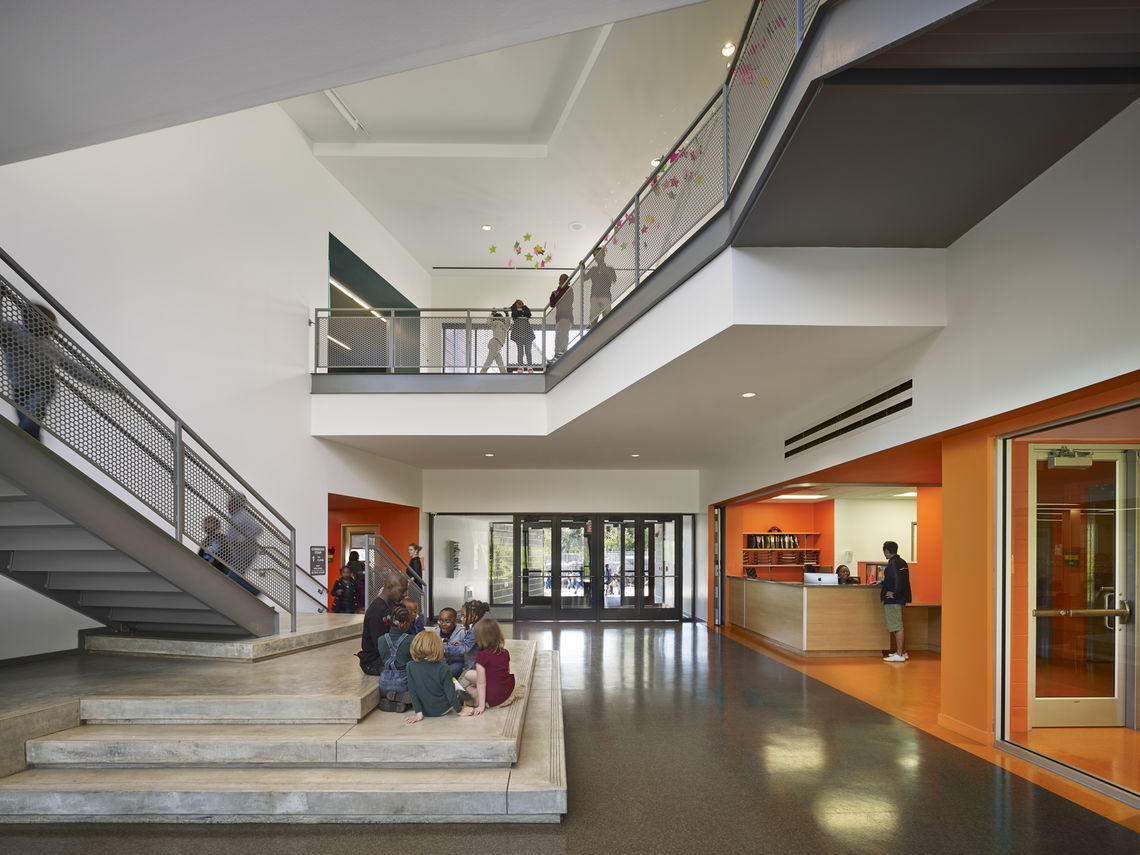 Wissahickon Charter School  |  Philadelphia, PA
These strategies will combine to make the communities that use our clients' buildings feel safe, both technically and emotionally; this will bring us back to an environment of warm and welcoming (and safe) public spaces.
"As we begin to establish what the new normal will look like, we need to keep in mind that the best connections we make can happen further than six feet
away." - Jason Manning, Design Director at Metcalfe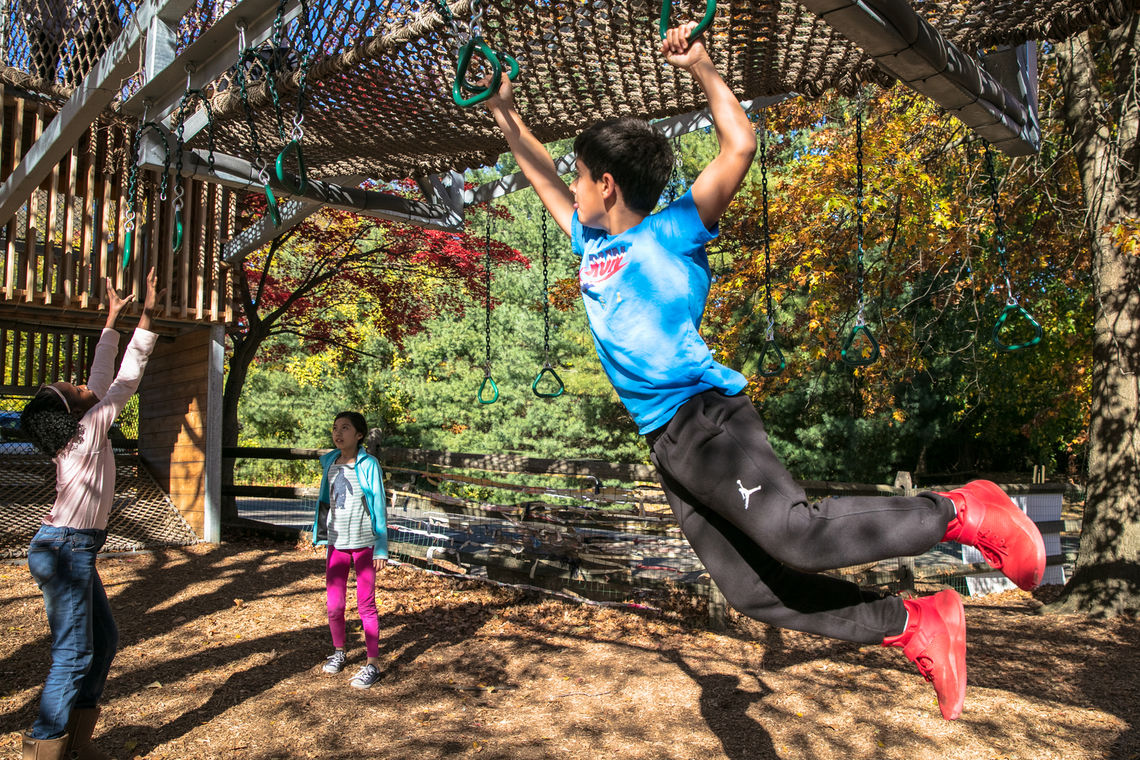 Abington Friends School  |  Jenkintown, PA