In the midst of what felt like an endless barrage of brutal winter storms, our team at Metcalfe has finished up a busy month of conferences all over the country!
Aaron Goldblatt ventured to Washington, DC to attend and present at the Council of American Jewish Museums Conference. His lecture; co-chaired with Lisa Sasaki, Michael Haley Goldman, Mara Kurlandsky, Johanna Mendelson-Forman, and Liz Neely; was titled "Expansive Techniques: Novel Approaches for Maximizing Civil Impact."
Aaron elaborated on Metcalfe's design methodologies- how we collaborate with our clients to create exhibits that challenge and engage their visitors. He spoke about how museums can craft exhibits that talk about past and present issues and how these exhibits of mixed perspectives encourage an experience that allows visitors to see present day issues within an informed, historical context.
The remainder of the conference was a whirlwind of educational and networking events at the United States Holocaust Museum. On Wednesday, Aaron attended a development workshop hosted by the National Building Museum and the Jewish Historical Society of Greater Washington.
Can you spot Aaron in the Council of American Jewish Museum's twitter photo? (twitter: @cajm)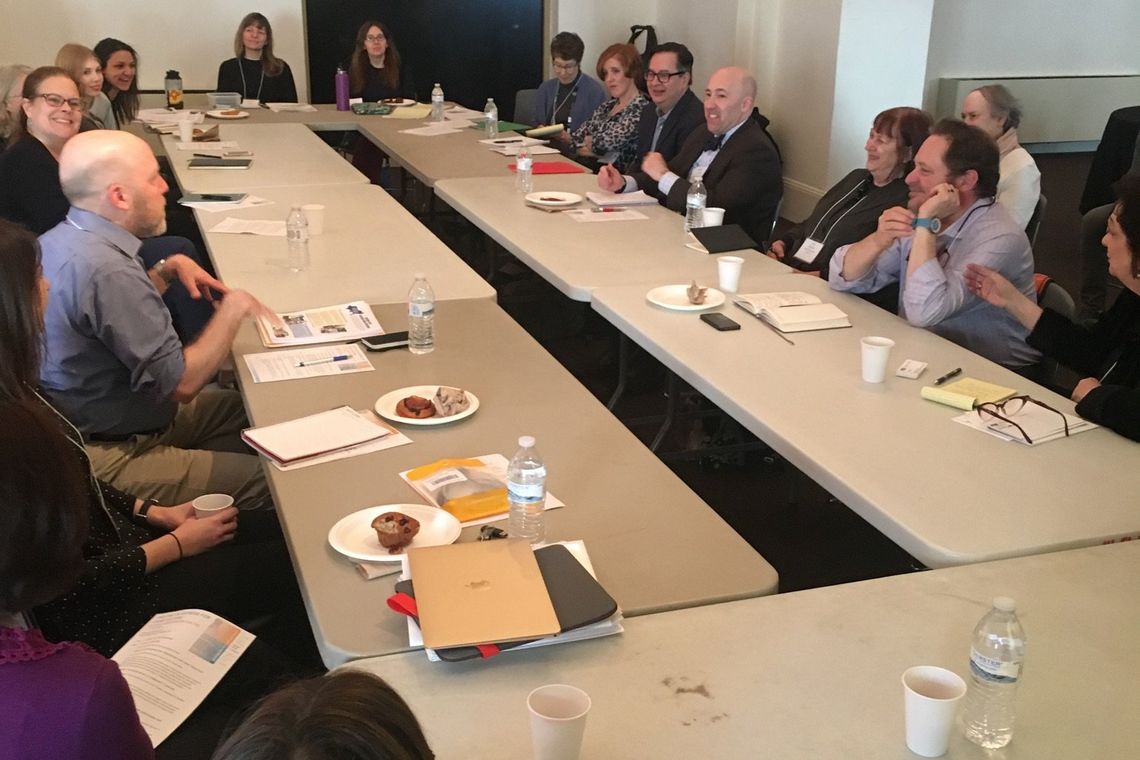 Alan Metcalfe and Bradley Gay avoided a snowstorm with a trip to Nashville, TN for the National Business Officers Association's Annual Meeting. Alan was a co-presenter with Frank Aloise, Ingrid Boucher, and Justin Wheeler for a lecture titled "Driving Enrollment with Small (and Large) Projects."
After a day of wandering down Main Street and checking out the local music scene, the group ended up at Robert's Western World for some live music and delicious food. What a great way to start the trip!
Later, Alan spoke at the conference about our firm's vast experience working with independent schools on their new construction and renovation projects. He discussed images of our work of all sizes, from outdoor play areas to master plans.
Our experiences have shown us that thoughtful, well-executed design (no matter what size) can have a big impact on the public's perception and reception of an independent school. This can boost enrollment, increase publicity, and encourage financial support of an institution for years to come. It's true, the Morris Arboretum saw a 30% jump in membership after we completed Out on a Limb.
Here are some photos of Alan during the lecture:
Alan Metcalfe, Aaron Goldblatt, and Chris Kircher attended the Mid-Atlantic Association of Museums Building Museums Conference in Philadelphia. The trio gathered for the opening reception at the Museum of the American Revolution on Friday night. It was exciting because we recently completed the Museum of the American Revolution's Discovery Center, a family-oriented experience of Colonial America- complete with a meeting house, graveyard, and replica Colonial home.
The conference focused on the construction of new buildings, rehabilitation of existing structures, and/or renovation of museum spaces with lectures and tours in and around Philadelphia- a city with many exhibits designed by the team at Metcalfe. We've worked with big museums like the Franklin Institute, the National Constitution Center, and Eastern State Penitentiary; but also with non-museum clients like the Philadelphia Phillies, Wawa, and the Morris Arboretum.
The conference is organized for industry professionals who ensure that the museum spaces they work on are envisioned, planned, implemented, and maintained effectively. Chris remarked that "…my experience at the conference reminded me that our museum clients are not only directors and curators, but fabricators, architects, and other exhibit designers. [Metcalfe's] expertise allows us to play different roles for different project needs. [We are] well-versed in all aspects of museum design."