From Germantown to Devil's Pocket, Mt. Airy to Manayunk, the Metcalfe staff have a clear appreciation of Philadelphia's neighborhoods and eccentricities – and a deep love for the place where we work and (most of us) live.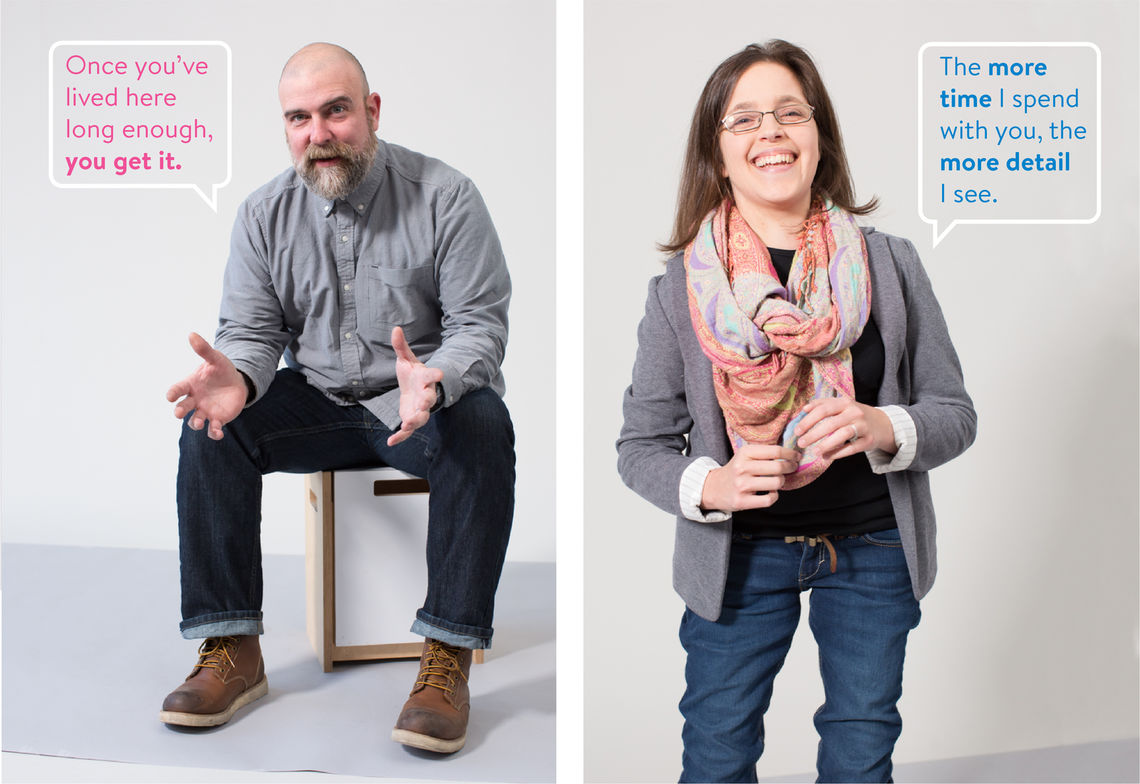 From kids drawing on sidewalks to Gritty. From West Philly cowboys on horseback to 'Rocky' poseurs.
"What makes me smile most about Philadelphia has everything to do with its attitude," says Jason Manning, who has lived here for more than 25 years. "Living in a 'city of neighborhoods' means where you live is a matter of pride. I live in Germantown – only three blocks from Mt Airy, but regardless, in Germantown. "However, no matter where you're from in this city, we're all 'from Philly.' Once you've lived here long enough, you get it."
What's there to get?
"We have world-class museums, but throw snowballs at Santa Claus," he said. "We have a park named 'Love.' We're the only people that are allowed to talk bad about our sports teams."
Philly also has the Christ Church in Old City, Jason's favorite place because "they used the space immediately around the church for burial plots. So, whenever you walk around the building, you're walking across gravesites."
 
Being 'from Philly' meant getting over the size and scope of the city for Hayley Freilich, who has lived in the city for 15 years after starting out in the suburbs.
 
"When I lived in the suburbs, you felt a mystery – an overwhelming behemoth of tall buildings scraping the sky held together by a sprawling weave of entwined streets," she said.
It's the little things, like "young, creative hands with sidewalk chalk" on the bricks in Filter Square that move her. "Now that I live in Fairmount, I am drawn to the community garden, which supplies me with much needed time outdoors and an opportunity to get to know my new neighbors."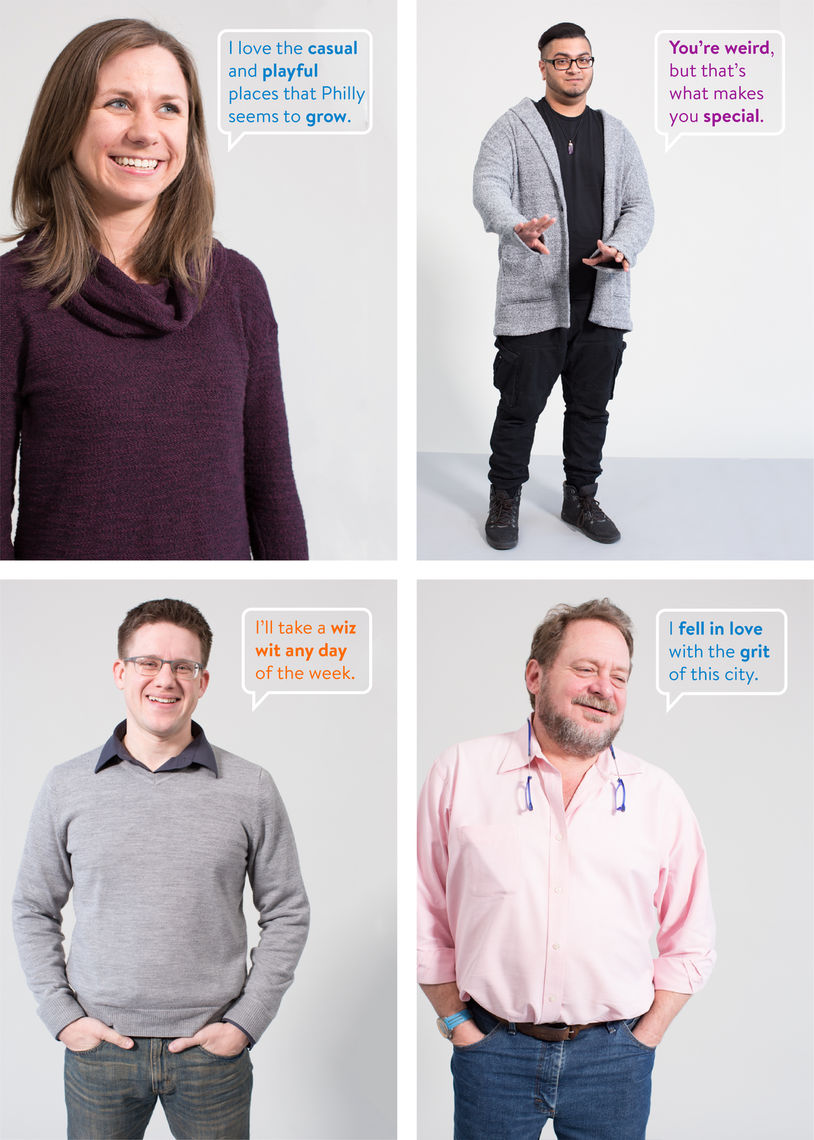 Outdoor spaces fuel Katy Johnson's love for Philly too. She's lived in Manayunk for two years and Philly for six.
"I love the casual and playful places that Philly seems to grow - the seasonal beer gardens, the pop-up parks, the community gardens, the murals and mosaics that coat almost every block," she said.
It's no surprise that people working for a practice dedicated to architecture and design – and integrating social spaces with play and exploration – would notice mosaics and colorful sidewalk art. But others have more offbeat observations.
"You're weird, but that's what makes you special," said Sohan Seth, who has lived here for 4 years.
He likes seeing cowboys riding horses down tree-lined West Philly blocks and watching people reenact the Rocky stance on the Art Museum steps. "It never gets old," he said. "You excite me. From your grit to your Gritty."
Philly, for Alan Metcalfe, is just plain cool.
"Philly, I love you because you don't know how cool you are," he said. "I moved here from New York City in 1988, and Philly peeps uniformly asked me with incredulity 'why did you move here?' and I answered, 'look at your beautiful, walkable city!' You have the PSFS building (being an architecture geek, it is my favorite modern building of the early 20th century, built at the same time as NYC's Empire State Building… see how cutting edge it was?). The Museum of Art is a romantic Roman vision on a hill (what a great way to get rid of the old reservoir) at the end of the long, Parisian, Ben Franklin Parkway.
"The Mütter Museum is just a weird and unique place, a museum of human body parts (of course the French love it… not kidding). And, built more recently, the Piazza, in Northern Liberties, which is based upon the Piazza del Popolo in Rome. What American city has an enclosed, people-scaled piazza, a civic space, where you can drink beer and watch football on the Jumbotron with your fellow urbanites?"
There were no Jumbotrons when Aaron Goldblatt moved to Philadelphia from North Carolina in 1976.
"I lived in a house five miles from the nearest paved road" in NC, he said. His new home was in West Philly and he later lived in Germantown, Center City, and Logan Square.
"I fell in love with the grit of this city," he said. "Over the years, the grit has faded, but I remain in love."
His favorite place, for now, is Rittenhouse Square, but "my list of favorites is endless."
Some of Andrei Konsen's favorite things to do in Philly are meeting friends for dim sum or ramen in Chinatown before seeing a show at Union Transfer or Underground Arts. And he loves the Eastern State Penitentiary's "massive fortifications juxtaposed with the modern neighborhood activity around them" which "offers a visceral connection to the past."
Anita McArdle believes Philadelphia has "a place for everyone – each area has its own personality" but particularly loves strolling down East Passyunk Avenue. "I love the feeling of community," said the Philly newbie who moved to South Philly in October 2019.
Rich Gallagher noticed the same when he moved to Philadelphia in 2010, to Fairmount, then Manayunk, then East Mt. Airy.
"I've been fascinated by the diversity and fierce distinctiveness of its various neighborhoods, sections, and sub-sections. No matter where you are in the city, you're only a few blocks away from a completely different atmosphere," he said. 
He could "spend hours sitting quietly in front of the Japanese Tea House in the Philadelphia Museum of Art," he said. And also, "I'll take a wiz wit any day of the week."
Google that if you need to. We hope you don't.
Finally, David Williams pulls it all together: "Philly is a bit of an exasperating family member, seemingly always doing stupid, embarrassing things but then surprising you again and again with greatness.
"At some point, you stop being surprised and accept that it's a wonderful, complicated place."